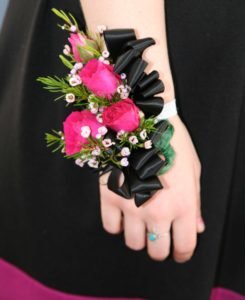 A person's wedding day is often the most memorable day of a their life. It's a celebration of the love between two people and their commitment to one another. It's also a great excuse for a party and to get dressed up fancy.
Of course, for many, it's also a very stressful occasion. All those eyes watching you during the ceremony can be intimidating and the expectation to look amazing can certainly make wedding days almost as daunting as they are special.
However, it's not only the happy couple who are expected to look amazing on the big day. Those in the bridal party and the groomsmen may also feel the pressure when dressing to impress.
Know how to wear mother of the bride corsage?
A corsage may seem like a simple enough accessory but in reality many people struggle when it comes to wearing one. There are a few simple points to remember:
Wear corsage on your right
Large numbers of people seem to be unaware of the fact that women should always wear their corsage on the right-hand side of the body. They are usually worn on the right wrist.
Your corsage should be pointing downward
For a woman, it is also important to remember that her corsage points downward.
Consider having a spare corsage
With so much to remember and so many hands to shake and hugs to make, it's a handy tip to bring a spare corsage with you. This is because during the hustle and bustle of the wedding ceremony your arm's adornment can get knocked around and ruined. Having a spare one will mean that you can quickly change it if anything happens to the original and you'll continue to look your absolute best.
Some unique ideas on how to wear mother of the bride corsage
Now, here's some unique ideas about how you can wear the corsage in different styles to enhance your appearance at the day of your daughter's marriage.
Select a bold and colorful one
A bold, colorful corsage is a great way to liven up predominantly neutral dress colors. If you're wearing a brighter dress then it's a good idea to match the flowers to the tone of the garment itself. Complimentary colors are also popular choices. For example, if you are wearing a grey or turquoise dress, a royal blue corsage might look good.
Make a statement with it
Wearing a corsage can really set an outfit off and wearing a large and colorful one will certainly make a big statement. Using exotic flowers will also add a 'wow' factor to your outfit. This will bring color and style to your look as well as turning a few heads.
Picking a corsage with a large or several small flowers will certainly make for a grand look. Popular flower choices include gardenias and dahlias.
Tie the corsage at the wrist
Tying your corsage at the wrist is the traditional way to wear it. However, traditional doesn't have to be boring and you can customize your corsage further with your choice of ribbon or fastening.
Again, bright colors are usually preferable as they will help to make you stand out from the crowd. Patterned ribbons are also a unique idea. However, you should always make sure that whatever fastening is chosen, it matches the flowers and dress of the wearer.
Wear it as a headband
You can give yourself an enchanting appearance by making a headband using the corsage. This is the perfect choice if you don't want to tie it to your dress.
Hopefully, the above hints and tips should help any bride's mothers out there who find picking and wearing a corsage a daunting and unfamiliar process. Remember, in this case, big is often beautiful and bright colors are your friend. Follow our advice to make sure you turn a head or two on the big day and don't panic too much over your outfit. Remember, weddings might be stressful but they are supposed to be fun too!
Reference Links
(Visited 225 times, 1 visits today)