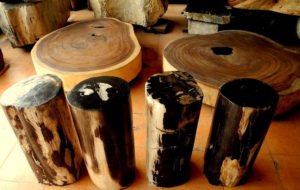 If you would like to know "how to clean petrified wood" then you have come to the right place. Petrified wood is a great way to bring some individuality to any home or commercial space. However, in order to keep it looking its best, it is important to maintain it properly. This can include using polish, where necessary, to ensure it retains its decorative qualities.
Cleaning Petrified Wood
There are a few natural ways to clean and maintain petrified wood properly. Many of these solutions use apple cider vinegar and hand soaps. These can really restore the wood's ornamental qualities. However, because petrified wood is a natural product, harsh chemicals should be avoided. This is because these products can cause irreparable damage to the wood itself.
Polishing Petrified Wood
The first thing to do is to set up the tumbler. The rocks must be put in the right balance and the necessary grit must be added.
Water and Abrasive Grit must also be added in the right mixture and in the right quantity. The petrified wood must remain for a few days in the tumbler. Once this has been done, the petrified wood must be taken out and to find out if the desired polish level has been reached.
When polishing you must know where to draw the line. Overdoing it could lead to the finer elements of the wood peeling off. This could damage the overall looks and appearance of the petrified wood.
You also should keep in mind that this type of polishing method using tumbler has its own limitations. It is suitable only for medium to small-sized pieces of petrified wood. When it comes to large sized wood, it would be better to use professional grade hand polisher.
Take Care Of The Cracks and Crevices
It is quite natural to come across wood which has open cracks and fractures.
These are all the more evident in wood which is medium to large in size and in full rounds. However, these cracks and fractures need special care to prevent further damage.
Unless this is done it could lead to breaking of the petrified wood. Here are a few ways and means by which this can be done:
Using The Oven To Handle The Problem
It is possible to repair the cracks and fractures by placing the cross section in the oven. However, here are few tips which must be followed:
The temperature must be set to around 225 degrees. You must ensure that the entire piece also has reached the same temperature. This could take long time and depends on the size of the wood.
After removing it from the oven, you must put a suitable Opicon 224 Fracture Sealant. This should be done carefully and only a suitable sized narrow metal  spatula must be used.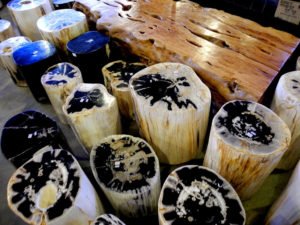 The heat will result in the sealant being absorbed superbly and rapidly. This is a time consuming processing and care should be taken to avoid even a single crack.
You should ensure that the first application should be drawn into the wood. This is because this gives it the best, strongest and most stabilizing seal.
You must avoid the sealant taking refuge in big holes which could destroy the natural look and give it a filled appearance. It would be advisable to leave the holes on an as is where is basis.
This process must be also continued on all sides and there are different ways by which large sized cracks are to be handled. It might be necessary to apply the sealant as a brush rather than filling up the gaps.
References
(Visited 4,847 times, 1 visits today)