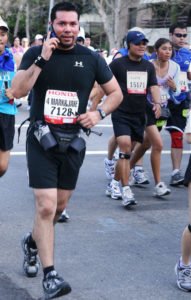 If you're a regular runner, then you know that it can be quite difficult to constantly carry all the bits-and-pieces you may require, during your workout, with you. Certain items can make this sometimes mundane form of exercise more entertaining or easier for the participant. This allows them to get more miles under their belt and feel even more benefit from the work they put in. However, carrying some items, such as your mobile phone, can be a real burden.
There are many reasons a runner might consider taking their phone along with them. These include using it as an mp3 player, tracking their progress on a particularly hard run, or just for the security that comes from being in contact with loved ones. Whatever the reason to bring your phone along, carrying it in the wrong way can often result in accidents. No one wants to finish their workout by fishing their precious smartphone out of the local canal.
How to carry a phone while running is often a bit of a dilemma. It's likely that you'll get tempted to keep it in the pocket of your shorts or running pants but this is hardly a workable solution. There's a good chance that the constant, abrupt motion of your legs against the phone will send it flying out to meet the concrete underfoot. Again, not an ideal end to a workout.
You can of course run with the phone in your hand, but again there is a very high chance of you dropping it. This risk is even more pronounced on longer workouts, where the mind is more likely to wander.
These are not the only methods people use to carry their phones which can lead to damage and a necessary and expensive replacement. Some people attempt to get around the problem by wedging it in their shorts, socks, bra or pants, or keeping it taped to their body or inner thigh. All these options are as hazardous as they sound and cannot guarantee the safety of your device or body.
So, what are the ideal ways of carrying your phone while running? Dedicated runners will surely be eager to learn some tips and tricks.Here's some expert advice for all you runners out there.
Keep it in your sports bra
Women can make use of a sports bra which are often designed with storage pockets for many things, including smartphones.
These multipurpose items are known as 'power bras'. They not only provide the support required for active women but they have inbuilt storage for a variety of items, including credit cards, keys, money and phones.
Arm bands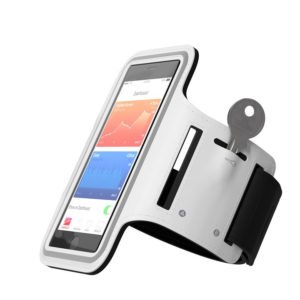 Arm bands are a great solution for runners who wish to carry their smartphones during a workout. There are several options available which come tailored to your needs. Possibly the best one is the ArmPocket, which comes in various sizes and colors. This makes it a great buy for those who want a more stylish solution than the sports bra.
It's always worth remembering that different ArmPockets have been designed to work with different phones so, therefore, always check which model the manufacturer built the unit for.
Phone belts
Phone belts securely hold the user's phone and also act as storage for your credit cards, keys, wallet, energy bars or even cash.
The belt goes around the user's waist and has pockets which have been designed to fit phones of different sizes.
Wrist wallets
Wrist wallets enable you to keep everything you need in the palm of your hand while pounding the running track or taking on that cross-country marathon. Similar to the arm band solution, they feature various pockets for additional storage and make a great alternative to either the belt or band.
Spibelt
The Spibelt is similar to the generic phone belt and features a zipped pouch in which you can carry your stuff in a secure way. The advantage of this product over the others mentioned is that it does not bounce at all during strenuous use.
Shoe Pouch ID
The Shoe Pouch ID is the best option for carrying your identification, as well as small items, such as mobile phones, while running.
Of all the solutions listed above, our favorite has to be the belts and bands. Whether you're sprinting through the woods or jogging around the block, these handy storage items can make taking your smartphone along simple and safe.
It's time you stopped finding ad hoc solutions to the problem and invested in designated storage to tackle this twenty-first century problem. Hopefully, the above tips should help you to make an informed decision when it comes to taking your phone with you on a workout.
References:
(Visited 352 times, 1 visits today)